B E S O N E G R O

Ernesto, Pepe and Lucho (2001)
Besonegro is the newest band formed by Ernesto Samame, bass player and composer, originally with We All Together.
Three popular music professionals became friends and decided to start a unique band. A band that will play hard rock as well as other musical styles, with a total inclination towards original compositions and a strong rhythm foundation.
The name Besonegro refers to the black roots of Rock. This origin of Rock is sometimes overlooked or porpously ignored by the exponents of the genre.
Besonegro is a trio because of the difficulties to play cohesive music in a small format. Also, the musicianship of each member is constantly challenged.
After many days of practicing and playing together, the band started composing and arranging enough songs to record a session. The band was recorded in a traditional setting, with all members in the same recording studio room. All songs were first takes in order to maintain the spontaneous chemistry among the musicians, and to keep the energy and creativity at its maximum.
The members of Besonegro are well seasoned studio musicians.
-Lucho Nuñez : young lead guitar player from Ayacucho. He is a well regarded sideman for many Peruvian rock bands. He is presently a member of Pedro Suarez-Vertiz band.
-Jose Wherrems : without a doubt one of the best Peruvian drummers and a percussionist. He has been a member of S.O.S, Feiser and We All Together .
-Ernesto Samame : bass player, composer, founder of Besonegro, and cofounder and actual member of We All Together.
Besonegro is a band that has International quality. Their compositions are mature and cover many musical styles, from jazz to hard rock, to bossa and songs that have a strong Afro-Peruvian influence. Long live Besonegro and their tribute to the black roots of Rock.
By Ayo Rivasplata & George Bonilla Copyright ©2001 Lazarus Audio Products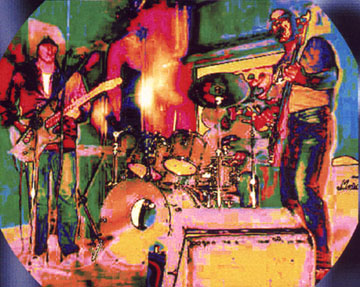 BBBesonegro information:elepe@terra.com.pe