WE ALL TOGETHER
We All Together was, along with Los Shains and Traffic Sound, part of a Peruvian pop music trilogy circa 1968-1974. While Los Shains took care of the garage end of things, and Traffic Sound the psych, We All Together were purveyors of the styles of Lennon and McCartney, and if those names incessantly appear in this page, that's because it's apropos. In fact, after listening to the reissues of their two albums (originally released in 1972 and 1974, respectively), you'll. agree that We All Together may be the one band of the era who, at least on record, was more enamored of the solo work of John and Paul than of their output with the Fab Four.
| | |
| --- | --- |
| | |
| We All Together (1971) | Felix Varvande and Carlos Guerrero |
Like most of the Peruvian bands of the time, We All Together never made much noise outside of their native land, and so their albums languished in obscurity for many years. Then, in 1997, our California based label, Lazarus Audio Products, reissued their self-titled debut album along with four bonus tracks culled from their mini-lp released in 1975. Lazarus Audio Products licensed the album from Carlos Guererro, We All Together's lead singer and owner of their original label, MAG Records. The sound quality on this reissue is better than the original lps, although the tapes were not archived properly, causing them to age greatly and leaving an unavoidable thinness to the overall sound. No matter, We All Together is a very pleasing album, and if you happen to already have the original releases, if the increased sound quality is not't enough incentive to purchase the Lazarus Audio version, take note of the fact that this reissue also contains four bonus tracks.
Guerrero has a voice that echoes Lennon's, but doesn't quite have the power or the angst; call it 75% Lennon and 25% Gilbert O'Sullivan (don't let that dissuade you from purchasing this disc; besides, whether or not you like O'Sullivan's stuff, you have to admit he could carry a tune). The original album contained ten tracks, six originals (all group efforts) and 4 covers. Interestingly, two of the covers are from Badfinger's Magic Christian Music LP, and the other two are from Wings' Wild Life. How cool is that?! I'll bet that there isn't one other album in existence that has multiple covers by two artists from only two different albums!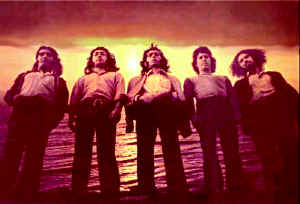 E. Samame, Saul Cornejo, Manuel Cornejo, Carlos Guerrero, F.Varvande (1974)
Although he's from Peru, Guerrero's accent is reasonably unobtrusive, and the band shows an adequate grasp of English on their original tunes. Guerrero's love for Lennon is well manifested on these tracks. The opening cut on the album, "Children", is We All Together's take on "Imagine"; it's a laid back but earnest paean to the little ones out there, speaking of children's purity of heart and wide eyed naivete. The next track "Young People" (presumably the "children" have grown a little) is mildly opaque lyrically, perhaps conveying the identity crisis teenagers go through (am I giving the band too much credit here?), and is a lovely little tune filled with sweet harmonies. "It's A Sin To Go Away" is the furthest the band strays from its pop formula with its keyboard based psych approach that could have easily fit on The British Psychedelic Trip or Rubble series. "Hey Revolution" is a very politically oriented track that is probably trying to ape "Revolution" in both sound and sentiment (it even "samples" a snippet from that song), although musically it's much closer to "Instant Karma", Guerrero effecting one of his grittier vocals and the band really rockin' out. Of course, the songwriters don't have the verbal facility of Lennon, but the track is a valiant plea for peace. "Why" is a dreamy ballad, and the album's final cut "The City Will Be Country" is, as its title suggests, a country pop tune that McCartney would have been proud to use as a b-side of one of his 45s.
To the bands estimable credit, they only mildly bungle the lyrics of the cover versions (the albums from which the covers come didn't contain lyric sheets, so the band more than likely used the common practice of attempting to figure out the lyrics on their own). Each of the covers is quite capably rendered, with only minor variations from the originals. Badfinger's "Carry On Till Tomorrow" is pleasingly wimpy; the bite is taken out of it, but this gives the tune a whole new perspective. The other Badfinger cover, "Walk Out In The Rain" (for some strange reason called "Walking In The Rain" on the CD) is also good, but unfortunately near the end of the song there's a brief slowing of speed, caused by a stretching of the master tape. The Wings covers are "Tomorrow" and "Some People Never Know", and the band shows good taste in choosing these, the best two tracks on Wild Life, and they also do a creditable job on them.
The four bonus tracks are from various sources: "Bluebird" (yet another Wings cover) and the utterly stark and bluesy Plastic Ono Band influenced "Dear Sally" are from a 1974 mini LP, "Ozzy" (pronounced "OH-zee"), a Guerrero penned tune with an incessant piano figure, some wonderful chord changes, and Linda McCartney-like background vocals, is from We All Together 2 (MAG 1974), and "Symbolic Queen", a 45 track written by band members Saul and Manuel Cornejo, has a slightly Old English bent and is marked by some interesting transitions.
All in all, We All Together is an extremely worthy reissue that will please fans of Lennon and McCartney, as well as lovers of 70s Britpop in general.
We All Together 2 is even better. The guys had worked together for a few years and were clearly coalescing as a unit, giving the album more of band feel. The songwriting became a bit more adventurous, as there is more experimentation with some unusual chord structures and time signatures. Carlos Guerrero wrote most of the songs on the album, but there are also 3 contributions from the Cornejo brothers and rhythm guitarist Willie Thorne and bassist Ernesto Samame put their hat in the ring as well. Still, the album isn't much of a departure from the first; Guerrero's "Cloudy Night" is exquisite, with a "Mother Nature's Son" flavor, but more ornate, and his "I'd like Her To Be Mine" contains the delicate McCartney styling extant on the first album, and. The album also reprises the wonderful Guerrero tune "Ozzy", which was used as a bonus track on the reissue of the first album .
The three contributions of Saul and Manuel Cornejo show a varying array of approaches:
"Persons And Faces" is similar to "Clair" by Gilbert O'Sullivan but without the cleverly implied pedophilia, "Beautiful People" is basically a spare ballad with some very Badfingerish ascending chords, and "Follow Me If You Can" is the heaviest track on the album, containing swirling psych flourishes and even some prog keyboard(!). Thorne's "Who Knows" also has a psych vibe, but it's much lighter and frillier, and "Silly Roadman", written by Samame, has some remarkable chord structures and time signatures which augment the music's detached quality.
There are 5 bonus tracks on the We All Together 2 reissue, 3 of which are culled from a mini-LP from 1975, and the other two being previously unreleased. Of the three mini-LP tracks, Guerrero's "She's So Sweet" is the only original, and it has a dreamy Lennon-ish feel. The other two are covers of Badfinger's "Rock Of All Ages" and McCartney's "Band On The Run". While the covers are creditably done, they were of songs that were perhaps a bit too ambitious for the band to have chosen; Guerrero has a beautiful voice, but it doesn't appear to be versatile enough or strong enough to tackle the demands inherent in those songs. One of the two previously unreleased tracks is their only Spanish sung contribution, "Nadie Me Ama Como Tu", which was written by the Cornejo brothers; it's a pretty tune, but a bit mawkishly MOR. The other track is Guerrero's "Together Forever", which probably dates from the first album sessions as it has that kind of feel. The reissue closes with what was the final cut on the original album, "It's Us Who Say Goodbye", a 1 minute farewell in the spirit of The Beatles "Good Night".
Your purchase of this CDs will definitely wet your appetite for the other reissues Lazarus Audio Products is planning, such as the two LPs by Laghonia, complete recordings plus bonus tracks, a band that contained Guerrero on their second LP, before Laghonia became We All Together.
By George Bonilla ©1995 Lazarus Audio Products